Banbury Fitter of Carports & Garage Doors (Roller & Solar)

At SBI, we're suppliers & installers of premium produced carports & electric or solar-powered roller garage doors for Banbury, Drayton, Broughton, Horley, Milton, Clifton and all over the UK and proud to be one of the most reviewed 5-Star company in our industry, with over 190 reviews.
We're a family-owned firm work with individuals, companies, schools, and other commercial entities. Our team have installed 1000's of quality carports and roller garage doors since SBI was established in 1998. We are one of only a few specialists companies offering installation, maintenance and repair.
Carports for Banbury Driveways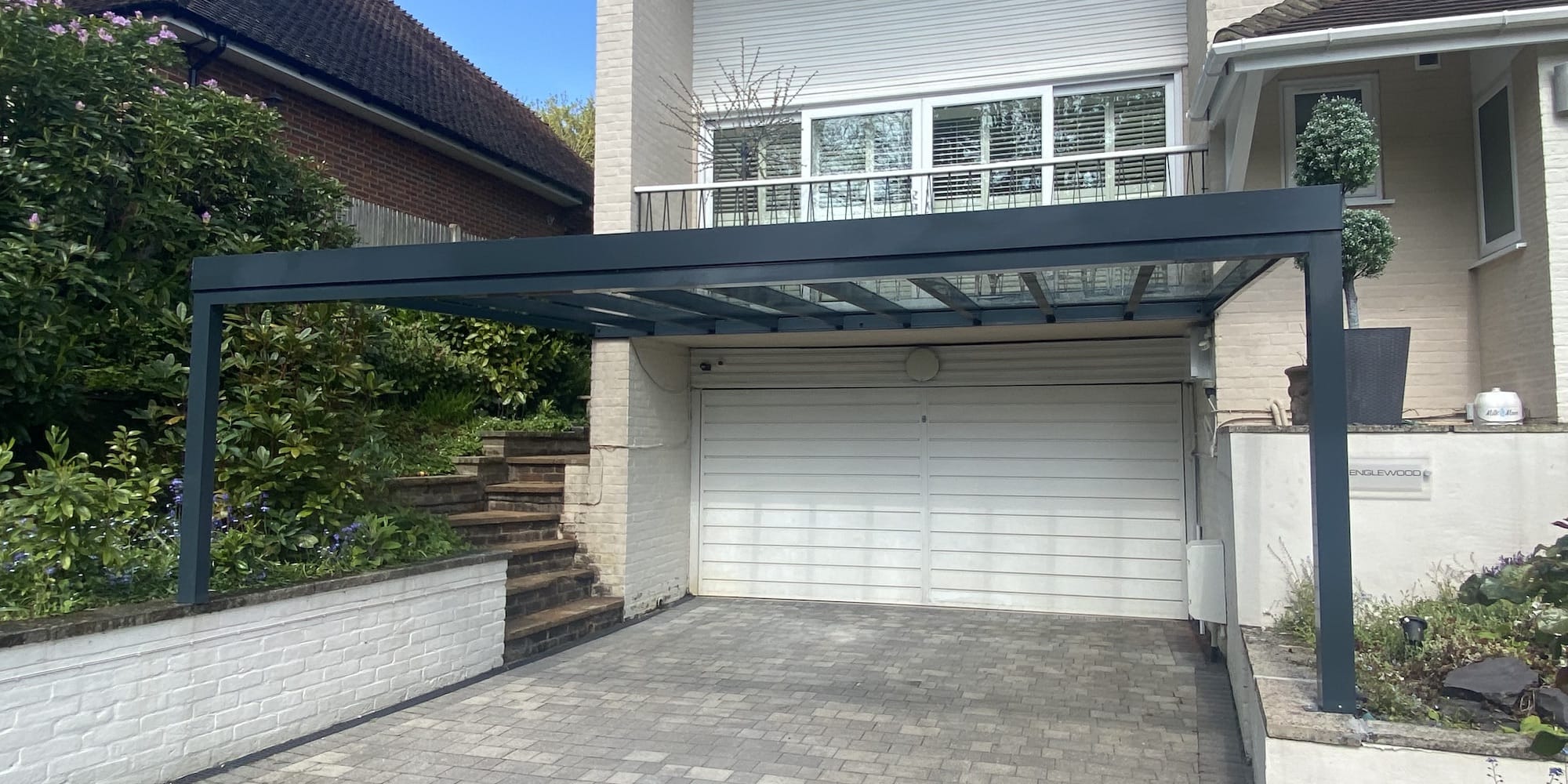 SBI can supply and install a top quality made to measure carport in . Our professional installation teams will carry out all aspects of the construction of the carport. If you have an old existing structure we can dismantle it and remove it for you.
An SBI carport is made from an aluminium framework that has been powder coated in a colour of your choice. You can choose different types of glazing from clear, opal or bronze. A carport will provide you with an economical way to protect your car, caravan or boat.
Our range of car ports require less space than a conventional garage and are quicker to construct. A car port can be designed to be attached to a wall or garage or as a free standing carport.
An SBI carport is made from a maintenance free aluminium high quality framework. The roofing is made from either a glass effect solid polycarbonate material that is much stronger than conventional glass.
Or from the lower costing 16mm triple wall polycarbonate glazing. The Carport can be manufactured in width and can project up 7 metres. Some extra special features that can be included in to a carport are spotlights built in to the roof bars.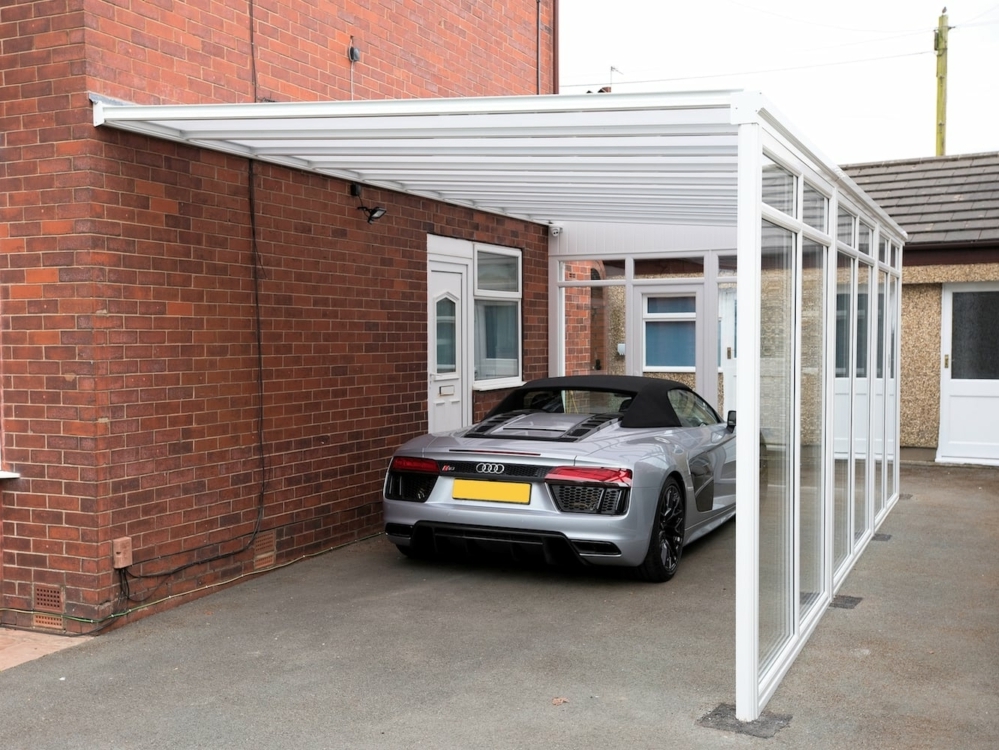 The advantage of built in spotlights when attached to a PIR sensor is that the driveway will be illuminated at night when you or your family come home in the evening.
The integrated spotlights also offer you a security features that will help to deter criminals stealing your possessions. SBI can also install a remote control roller garage door to the carport to provide you with a secure parking area for you vehicle.
The carport garage door can be added at anytime to the car port and it is also made from maintenance free aluminium that can be coloured coordinated with the carports metal framework.
SBI offers its clients the convenience of a free home design consultation where the design, size, installation and price can be agreed. Our fully trained and insured installation teams will carry out every aspect of installing the carport and on completion of work we provide you with a guarantee on the installation and the carport for your peace of mind.
Our car canopies can be used for as multi purpose covers for storing bikes, firewood, airing cloths, muddy boots and cleaning the pets. Call our design team that will be happy to call on you in person and show you samples of our quality components that go into making our carports stand out from the crowd.
For a premium produced carport please call 0800 074 2721 to speak to one of our specialists!
Roller Garage Doors for Banbury Properties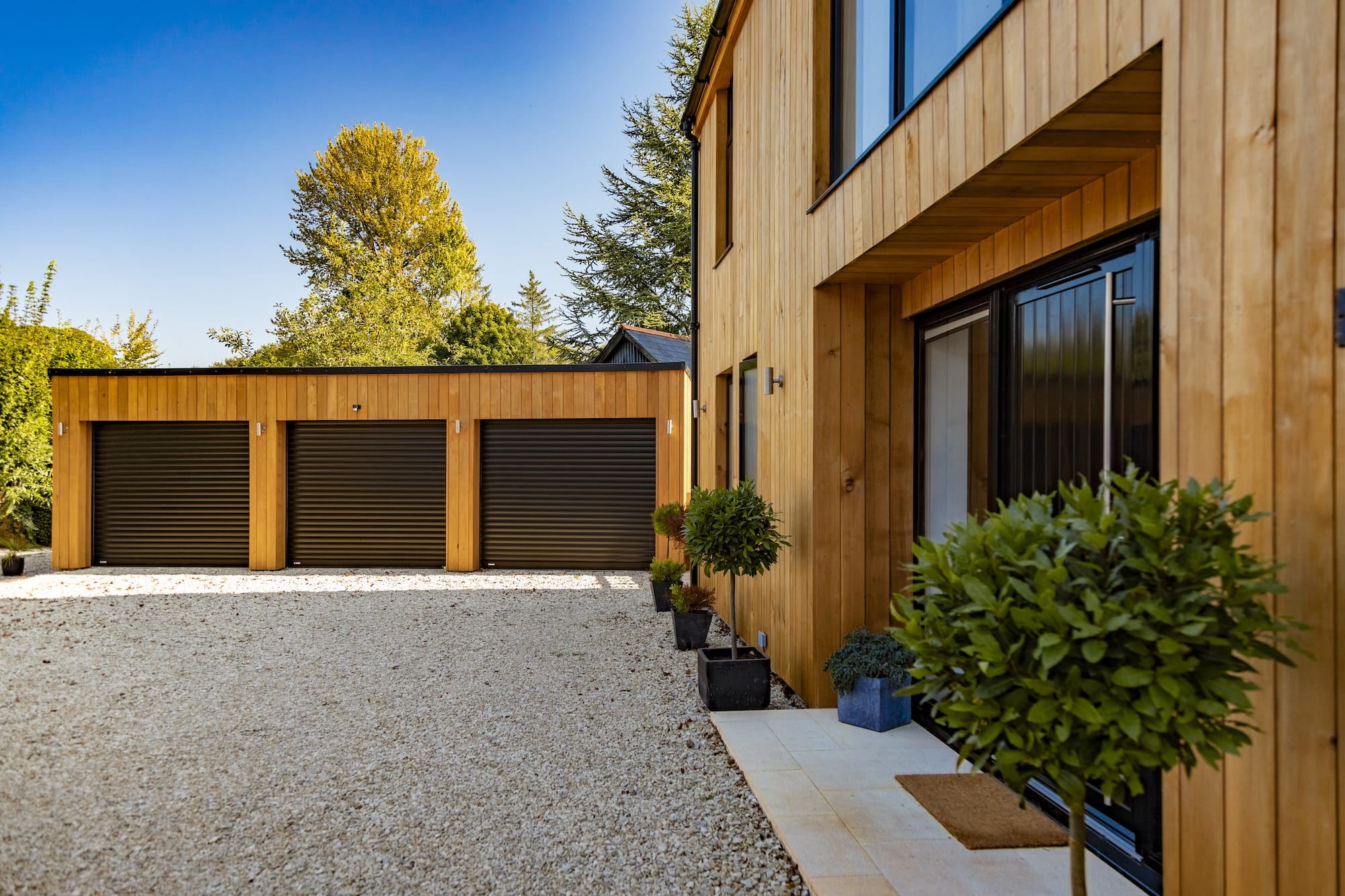 Choose from traditional space saving roller garage doors or SOLAR POWERED garage doors. Our range of SOLAR powered garage doors, work with a whisper quiet integral motor.
Powered by the sun it is 100% independent and 100% Solar!
The garage door comes with a compact housing 172mm x 172mm.
12 Standard colours to choose from.
Insulated twin wall foam filled aluminium slats.
No wiring, no drilling, no messy cabling.
If there is a power cut you can still use your garage door as normal. Along with the roller garage doors we offer a range of bespoke steel doors in 30/70 or 50/50 openings.
For premium produced electric or solar-powered roller garage door please call 0800 074 2721 to speak to one of our specialists!
Location: Banbury, Oxfordshire, South East, 52.06213, -1.33360.